Enjoying olives, croquetas, and sardines with a glass (or three) of Spanish wine while connecting with your favorite people? If that sounds about right, then you aren't wrong. In partnership with Foods and Wines from Spain and Alimentos de España, award-winning sommelier and global event planner Belinda Chang shows you how to bring the spirit of Spain into your home, as well as the homes of your friends and family.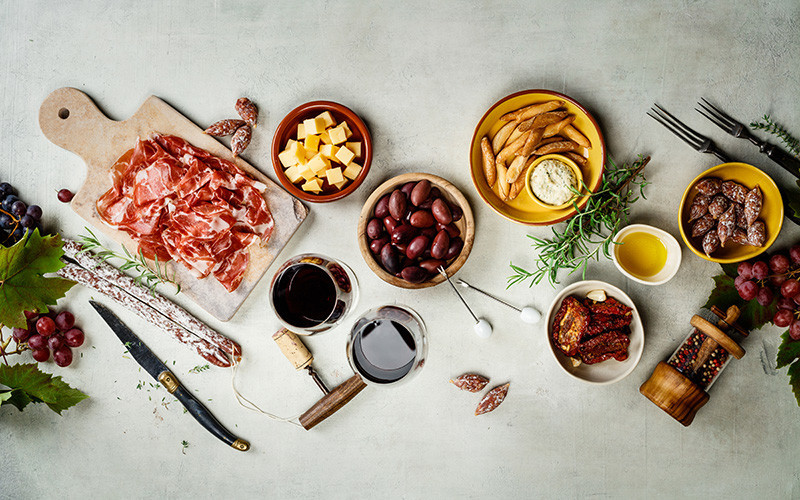 In March of this year, I had to take everything I know about hosting elegant celebrations in homes and restaurants all over the world and figure out how to produce the same level of experience on screen. It's been a success! I have gathered hundreds of foodie and wine-loving friends together every Sunday online to make cocktails, sip wines, and cook dishes together. It's amazing how comforting it is to virtually connect over food with my community.
I am also missing my global travels to the world's ultimate culinary and vinous destinations. Spain, in particular, stands out. That country's artisan food producers have such a generosity of spirit and so many generations (and in many cases centuries) of know-how that I know Spanish gastronomic products will always be sustainable and diverse, and can elevate any event.
It's with these things in mind that I present my step-by-step instructions for hosting a virtual wine and tapas party, so you, too, can have delicious and wonderful moments with friends and family if you can't be together in person right now.
Step 1: Choose a date, a time, and a platform
Find a time when you and your guests will be able to relax, enjoy each other's company, and create a memory together without too many distractions. Sunday brunch is my favorite, but an after-work party is an option too. Give everyone a bit of time to decompress from a full day of home schooling and video conferences before turning on the screen again for the virtual party. As for video conferencing platforms, there are many options! The most important thing is to choose a platform that allows for eye-to-eye contact.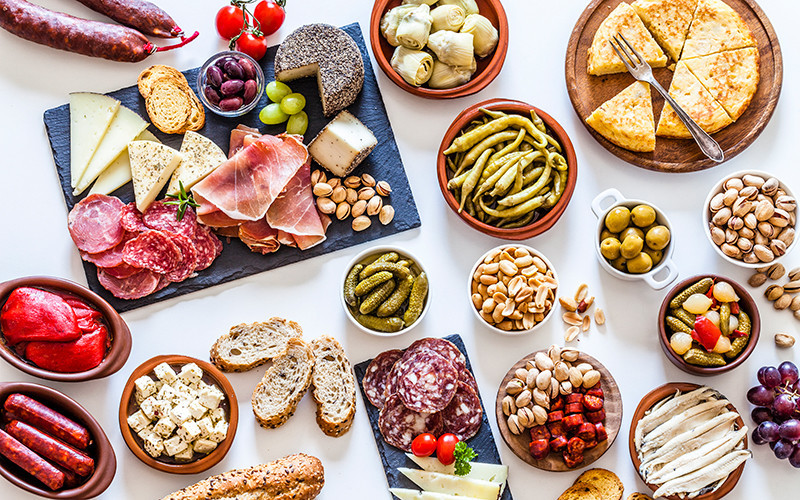 Step 2: Determine your menu
Every great chef and experienced host knows that the best ingredients can stand on their own with little transformation. So your menu should let single ingredients that show the true diversity of Spanish flavors and textures shine on a gorgeous board. But you can also include a few easy recipes to prep in advance and finish during the call in your respective kitchens. Part of the fun of a virtual tapas party is spending some time cooking together, wine glass in hand. Only you know your guests—can they handle more intricate recipes? Go forth! Would they prefer to snack off a beautiful board? Make that call. And, of course, don't forget the sweets if you love them. Feel free to use this sample menu of my wine and tapas party must-haves:
For a board: Jamon Iberico, chorizo, cheeses such as Manchego, Mahon (from Menorca), Cabrales, Valdeon, and/or Idiazabal, and conservas (every kind you can find: squid, anchovies, uni, tuna), plus Marcona almonds, and extra-virgin olive oil for dipping and drizzling. There are so many vibrant and exciting Spanish olive oils to choose from—Spain is the largest exporter of EVOO in the world—and I always have a few varietals stocked in my pantry.
For the simple tapas recipes: A combination of Croquetas de Jamon, Patatas Bravas with Spanish Pimenton, Tortilla Española, and Gambas al Ajillo will do just fine.
And for dessert: Crema Catalana or an elevated cheese with honey sweet treat. And if you are a cheese-for-dessert person like me, keep it simple with some Manchego.
You can easily find these items and wines stateside at online and brick-and-mortar purveyors such as Caputo's, Iberico Club, Tienda, Despaña, Delicias de España, Spanish Table, La Española, Mercado L. Spain, Murray's Cheese, Igourmet, Zingermans, Whole Foods via Amazon, Wine.com, K & L Wines, Total Wine, and B12 Fine Wine and Spirits. And feel free to explore Whole Foods, your local specialty store, and your grocery store's specialty food section in person for Foods and Wines from Spain!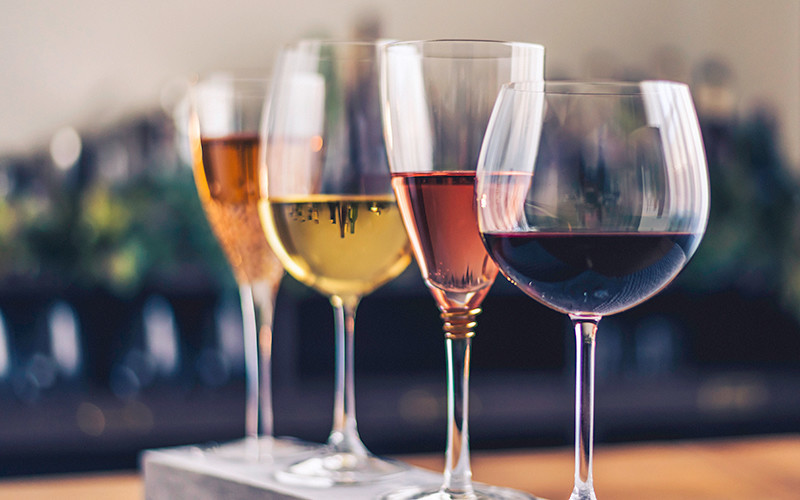 Step 3: Choose your wines
I have never thrown a party with fewer than six types of wine. For a real wine pairing experience, have at least one of each of the styles below. That old adage "what grows together, goes together" has always served me well, and holds especially true with the excellent wines and foods of Spain, so feel free to mix and match based on your menu! Here is what I recommend, with some notes that you can use to guide guests during your own virtual tasting.
SPARKLING
Cava is the iconic sparkling wine of Spain, made in the método tradicional (traditional method) in both white and rose. Generally dry, and crisp with great minerality and zip, bottles of cava are a MUST for the aperitif as everyone is joining you on screen and as you start to nibble.
WHITES
I love still white wines made from the noble Albarino grape from the Rias Baixas region, as well as white wines from Rioja made from grapes like Viura and Malvasia. All are world class.
REDS
The reds from the Ribera del Duero and Priorat regions of Spain are some of the most collectible in the world, as they have the ability to age and increase in complexity and greatness over time. Respectively, they showcase the art of making the best Tinto Fino (a.k.a. Tempranillo) and Garnacha and Cariñena (a.k.a. Grenache and Carignan) on Earth, and many of the best producers use organic and biodynamic practices.
SHERRY
A virtual visit to Spain (and with my favorite friends and family) would not be complete without a sherry or two. Or three. Conveniently, many sherry producers bottle their blends in 375 mL half bottles, so I never feel guilty about picking up a selection! Dry styles like Manzanilla and Fino are delicious, slightly chilled with Largueta almonds and slices of Jamon Iberico. A richer Amontillado is heaven with croquetas or a simple green salad with cep olive oil. And powerful Oloroso will crush (in the best way) a mature Spanish cheese like the ones I mentioned earlier: an artisanal Cabrales or two of my other favorites, Valdeon and Idiazabal.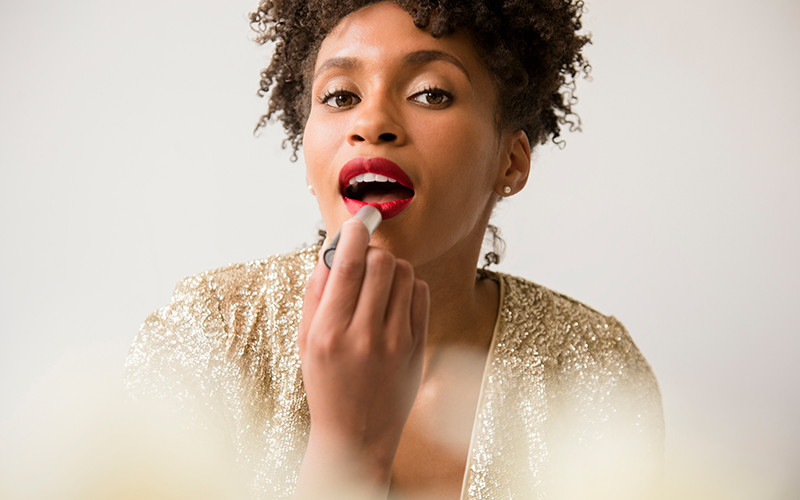 Step 4: Determine the dress code
I always love to dress up when dining in Madrid and Barcelona, so for the dress code, consider iconic Spanish fashion brands. Dressing up sets the mood for celebration and cheers me up, so call for all of your guests to dress chic. The gallery view on the call will be as beautiful as the tapas and wine spread.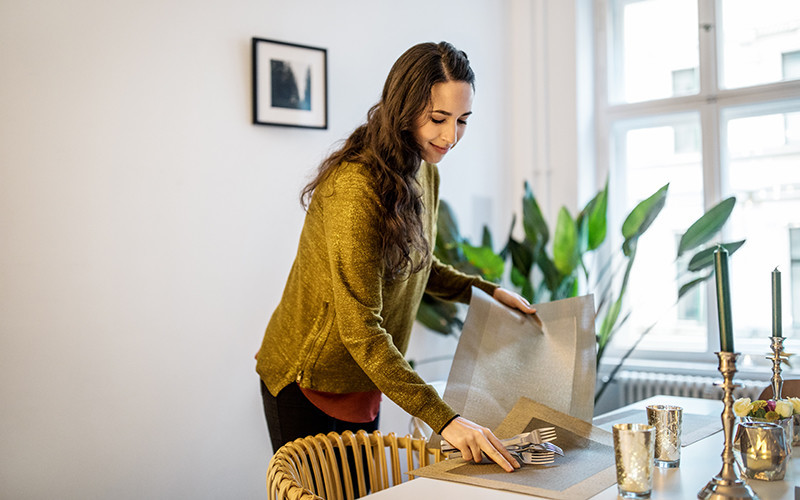 Step 5: Design the décor
I also love to coordinate tabletop, lighting, and décor so it feels as if everyone is at a table together. Send an image of an inspiration table to your guests showing your plan for the place setting(s). I suggest using natural linen tablecloths, copper-colored flatware, red dinner plates (my favorite), yellow linen napkins, glass candelabras, and FOUR wine glasses set out per person. There are new companies who rent and send fun place settings all over the country, which is a great way to level up the whole experience.
Step 6: Create a gorgeous digital or paper invitation
This is how you'll share the dress code, menu, recipes (let your guests know what to prep before coming on camera and which dishes you will finish together), and even a pre-game playlist. You should also distribute shopping lists (or, if you're feeling especially generous, send gift boxes to your guests with the ingredients and the wines that you will be drinking together).
Step 7: Take a few minutes to do tech checks
Everyone wants to look good for a virtual social event, so if you have some tech newbies joining your party, make a 15-minute date earlier in the week to log in and help them adjust their lighting, microphones, and their "set" for the party. You will thank me for encouraging you to take this extra step. No one wants to spend the first hour of their party enduring feedback from faulty audio settings or your mom's backlit vignette that makes it impossible to see her face.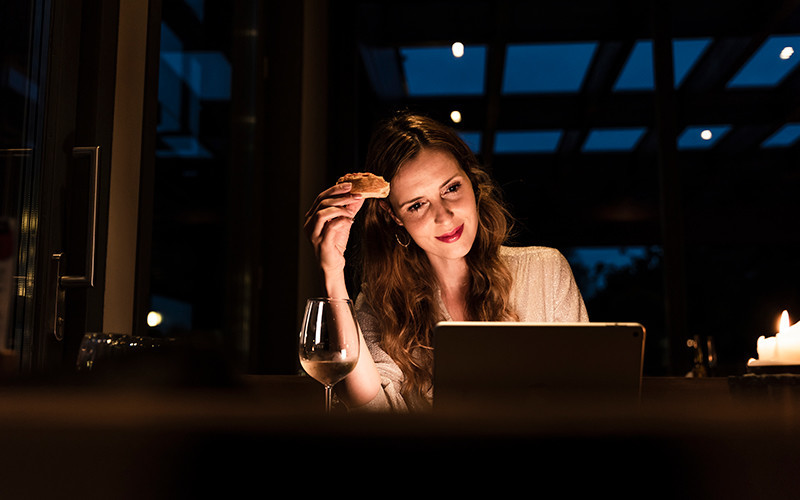 Step 8: Sign in and celebrate the glorious food and wine of Spain!
You have checked that everyone received their invitations, gathered wines and ingredients, and prepped recipes. The table is set and the candles are lit. Your favorite Spanish tunes are playing throughout your home. Pop ALL of the bottles and pour yourself a splash of each wine.
Fry the croquetas, flip the tortilla, and sauté the gambas together before heading to the dining table—take your laptop or cell phone with you, of course! While you catch up on all of the latest from your guests on screen, try everything with everything and find your own favorite matches. I would never tell you that you have to drink the Albariño with the anchovies or the Ribera del Duero with the croquetas. There is no sommelier staring over your shoulder to make sure you are pairing the "right" bite with the "right" wine. It's your virtual party and you can drink Garnacha with whatever you like. Challenge your guests to find their favorite matches and combinations, too. Just save a splash of Oloroso sherry for dessert!