How to Throw a Cheese Tasting Party

+

By: Sabrina Medora
Whether you're entertaining for a special occasion or simply gathering friends together, consider skipping the traditional dinner party and hosting a cheese tasting party instead. As with a wine or beer tasting, much nuance can be found from trying different cheeses. As host, you can choose whether to set it up as a blind taste test, which brings in the fun elements of discovery and friendly competition, or simply to lay everything out with labels or notes ahead of time so that guests can explore for themselves. Either way, we've partnered with Tillamook County Creamery Association (TCCA) to present tips on hosting the ideal cheese tasting party, featuring their masterfully crafted, bold and complex Tillamook® Maker's Reserve line of extra sharp aged cheddars.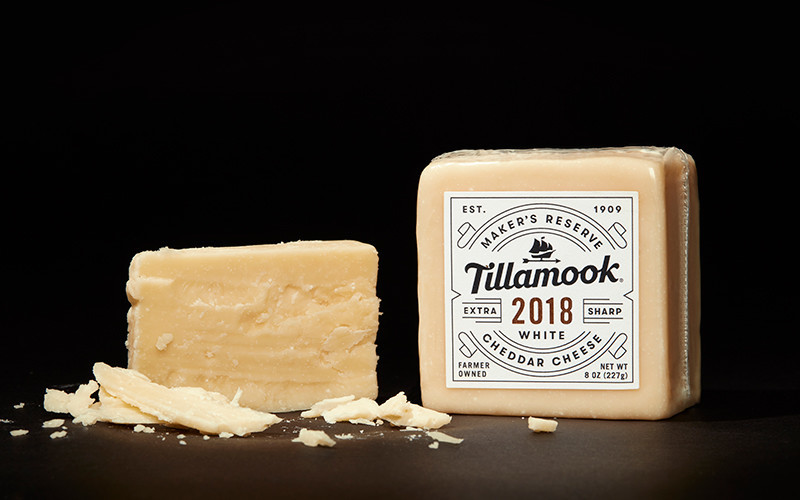 1. Be Discerning With Your Cheese Selections.
When selecting cheese for a tasting, less is more. Featuring four or five cheeses will allow guests to focus on the taste and quality without becoming overwhelmed by choice and flavor. Rather than selecting a wide variety, choose cheeses from the same family so as to truly appreciate the distinctions between them. A new line of Tillamook Maker's Reserve is released each year—a series of five white cheddar cheeses, each one patiently aged for a minimum of three years and up to 10 years, allowing the enzymes and natural flora within the milk of the cheddar to develop and retain distinctive notes. As the cheese ages, it develops complex flavors and textures—from creamy and fruity to crumbly with a crunchy crystalline texture and a pungent and sharp flavor profile. Serving a lineup of Tillamook Maker's Reserve vintages will allow your guests to experience the difference a year (or three! or ten!) makes when it comes to aged cheddars.
2. Get Strategic About Your Beverage Pairings.
Tillamook Maker's Reserve cheddar has vintages, similar to wine, defined as the year in which the cheese (or wine) was produced. Pairing wine and cheese from the same year (or vintage) allows the flavor profiles of the wine to complement the nutty, fatty notes that have developed within the cheese. In turn, the right cheese can accentuate the fruity aromas and tastes of the wine rather than overwhelming them. If you can't find wines from the same year as the cheese you're serving, here are a few good rules of thumb.
As cheddar ages, the flavors get more pungent. Pair heavy-bodied wines with older cheeses. For example, the 2011 Tillamook Maker's Reserve Extra Sharp White Cheddar is bold in flavor and would pair well with a medium-to-full-bodied wine such as gewurztraminer.
The younger the cheddar, the lighter you can go with the wine. For example, the 2018 Tillamook Maker's Reserve Extra Sharp White Cheddar has a buttery flavor, which would pair well with a Prosecco (when in doubt, bubbles are the way to go, as most champagnes, proseccos, or brut wines can hold up to stronger flavor profiles).
Don't feel restricted to just wines. Beers and ciders can pair beautifully with cheeses. Consider fruity ciders like pineapple, hard apple, or raspberry along with pilsners or stouts and taste to see which brews pair best with the bites.
3. Build Cheese Boards with Vintage-Friendly Accoutrements.
To ensure that your guests don't walk away hungry, create a cheese board for each cheese you are tasting. If you've ever tried to assemble a cheese board in the past, you'll know there's an art to the process. The trick is to keep it simple when it comes to the elements. In addition to the featured cheese, each board should have:
A savory component (charcuterie meats such as Iberian ham, pâté, or chorizos)
A sweet component (fruits, honey, or jam)
A crunch component (nuts, crackers, or toasted breads)
A briny component (olives, pepperoncini, cornichons, or pickled onions)
TCCA provides pairing guides for each of their Maker's Reserve cheddars to guide you on what goes best with each vintage. You can find them here.
4. Provide Tasting Note Cards for Your Guests.
Whether you're setting up the cheese boards with or without labels, it's handy to provide your guests with notecards so they can record their reactions to each cheese. Encourage guests to engage their senses as they examine each sample. Some aspects to consider:
Visual appearance and tactile feel: Does it have lots of crystallization around it? Does it cut into shards or crumble at the touch?
Smell: Does the cheese smell grassy, lactic/milky, fruity, floral, nutty, earthy?
Taste and Texture: Is the cheese sweet, sharp, earthy, or acidic? Can you identify more than one note as you take your second and third bites? Does the wine or beer pairing accentuate a particular flavor profile within the cheese, or vice versa?
These points can spark lively conversation; as every individual's palate is different, there will be varying reactions to the same cheese.
5. Set Your Table for Success
In order for your guests to have an optimal tasting experience, it's important to let your cheeses come to room temperature (or sit out of the refrigerator for at least an hour). Cold cheese will have a subdued flavor. Next, sort the cheeses from youngest to most aged so your guests can progressively make their way up to the sharper flavors, as opposed to starting with the sharpest and muting the cheeses that follow.
Host your own Cheddar Tasting Party with Tillamook Maker's Reserve. Buy your favorite vintage—or the whole flight!—at Tillamook.