Burrata 101
There's nothing quite like burrata. The unique Italian cheese has a texture and flavor unlike any other cheese you've ever tasted. In partnership with BelGioioso Cheese, here's everything you need to know about the creamy king of formaggio.
Originally created in Southern Italy, burrata is prized for its luxe texture and flavor. It's a semi-soft cheese that resembles fresh mozzarella, so it's understandable why people often confuse the two; both burrata and fresh mozzarella have a white, globular shape and an almost elastic-like casing. But burrata is distinct from fresh mozzarella in a few important ways. Here's a quick crash course in delicious burrata.
How Burrata Is Made
Like fresh mozzarella, the outer casing of burrata is made with pasta filata, stretched cheese curd that retains a bit of snap and elasticity. The curd is stretched to form a hollow pouch. Then, before it's sealed, the center of the pouch is filled with shreds of mozzarella, which cheesemakers top with fresh cream. The cheese is then sealed to keep the stracciatella, as it is known, from oozing out of the cheese ball.
How to Store and Serve Burrata
Like other fresh cheeses, burrata is stored in a container of water. The added moisture keeps the fragile cheese from tearing during storage and transportation—no one wants that creamy center to leak before it's time for the grand reveal. Plus, the water helps the cheese retain its delicate flavor; no aging is necessary. You should remove the burrata from the fridge at least 15 minutes before serving, as the flavors and texture of this fresh cheese are best when they've had a bit of time to warm up.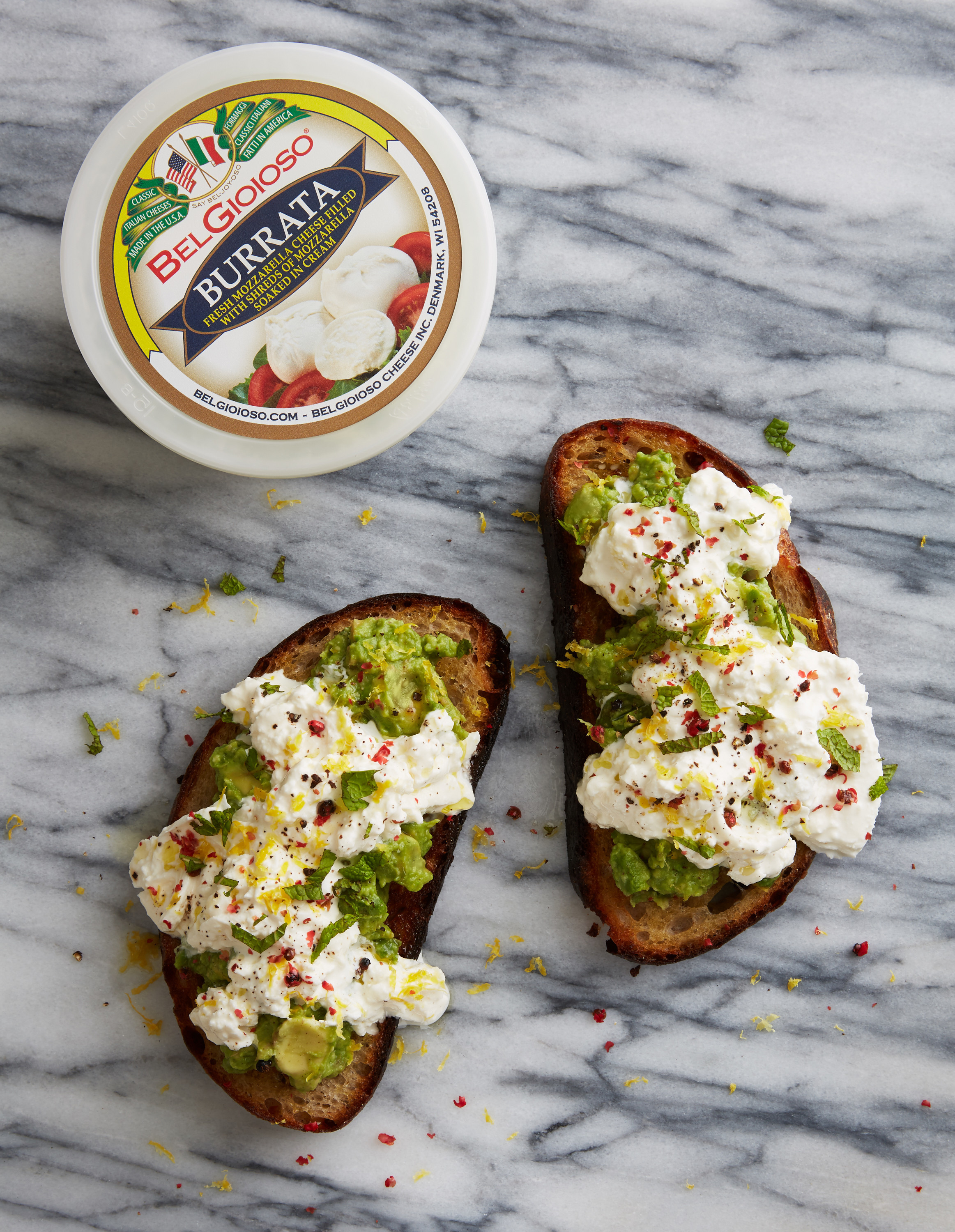 What Burrata Tastes Like
With a single slice through a burrata ball, you'll reveal a rich, creamy center. The texture of this stracciatella is more like spreadable butter than sliceable cheese. It's decadent by itself, though not overly rich. Its mild, milky, sweet flavor is dreamy on slices of baguette, sprinkled with sea salt and olive oil, or on a lightly dressed salad.
What to Pair with Burrata
Don't let burrata's mellow flavor fool you. This rich cheese can hold its own with a variety of flavors. Try burrata in a caprese salad with tomatoes, basil, and balsamic vinaigrette. Crack a bit of fresh pepper over a smear of burrata on a peach slice. You can even add burrata to your morning avocado toast. Make sure the toast is extra crisp so you can get a great crunch against the soft avocado and smooth cheese. A ball of burrata will also take a fruit plate or charcuterie tray to the next level.
BelGioioso Burrata is an especially great pairing with the acidic bite of fresh tomatoes, the grassy tang of olive oil and basil, and the crisp crust of a bun. Try it for yourself in these sliders.
BURRATA CHICKEN SLIDERS
Makes 12 Sliders
---
6 thinly sliced boneless chicken breasts (or cutlets)

Salt and pepper

1 tablespoon olive oil

12 slider buns, split

1 tomato, thinly sliced

Fresh basil leaves

8 ounces BelGioioso Burrata cheese, sliced
Cut chicken breasts in half to fit a slider bun. Season the chicken on both sides with salt and pepper. Grill or pan-grill chicken in olive oil over medium heat. Cook thoroughly on both sides, then remove from pan and set aside.

Toast buns by grilling them, cut side down.

For each sandwich, layer a piece of cooked chicken, a tomato slice, a fresh basil leaf and a slice of BelGioioso Burrata inside a toasted slider bun.
---
YOU'VE NEVER HAD A CHEESE LIKE A BELGIOIOSO BURRATA.